---
Alaska Hunting with Alaska Outfitters Unlimited
How do you define the ultimate Alaska hunt? Observing trophy-size bear in the amazing wilderness of the Alaska Peninsula?  Riding horseback into the Wrangell Mountains where you may hunt moose, dall's sheep, wolf, wolverine, grizzly, mountain goat and black bear? Flying in to pristine mountain goat hunting ranges?  We offer big game hunts in one of Alaska's most abundant locations!
Horse-Assisted Wrangell Mountain Hunts
If an Alaska Horseback hunt is your preference you need to check out the Wrangell Mountain hunting section of our site. Our hunting packages accommodate both single and multi-species hunting, and our pack and saddle horse stock is first rate.
Our Wrangell Mountain hunts take you to the more remote and extraordinarily beautiful area of the Wrangell-St. Elias National Monument, home to one of Alaska's most popular ranges. As one of the few areas in North America where you can hunt Dall's Sheep, Rocky Mountain Goat, Moose, Grizzly, Black Bear, Wolf and Wolverine on the same hunt, our Wrangell Mountain hunts offer extraordinary opportunity for trophy and multi-species hunts. To ease your travel, these hunts are horse-assisted. To access this area, you will be driving to from Anchorage to the Chitina Airport. From the Chitina Airport we will fly you to our Main Camp Cabin (staging area).  Next day you will be saddling up to ride to your appropriate (sheep/moose/grizzly) spike camp.  From there we will be within a short hike of the best viewing areas. In the morning your hunt begins.
---
Wrangell-St. Elias Hunts: Take in the Scenery and Enjoy the Ride!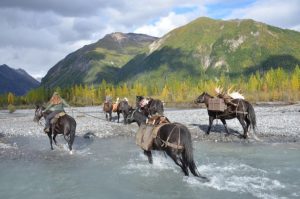 Let our horses do the work and be amazed by the Wrangell-St. Elias National Park and Preserve! You do not have to be a Rodeo Star or even close. Any level of experience from none to expert is ok. Our horses bred to be gentle and sure-footed. They know the Alaska terrain better than we do. Our horses are your assets and friends. Simply put, you need the horse and will appreciate the stamina they have to get you to your camp. Plenty of time is given to get ready, your wrangler and guide will assist you every step from packing to getting on your horse.
While some weight limits do apply, we've never had to turn away a hunter yet! This is a great hunt with plenty of opportunity for several species. You might even take a Lakina 5! (Read the story here (PDF)…) If this sounds like the hunt for you, give us a call or send an inquiry for details!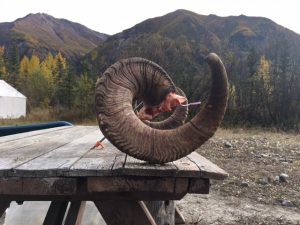 2018 Best-Effort Client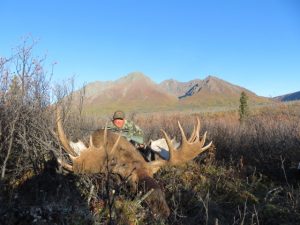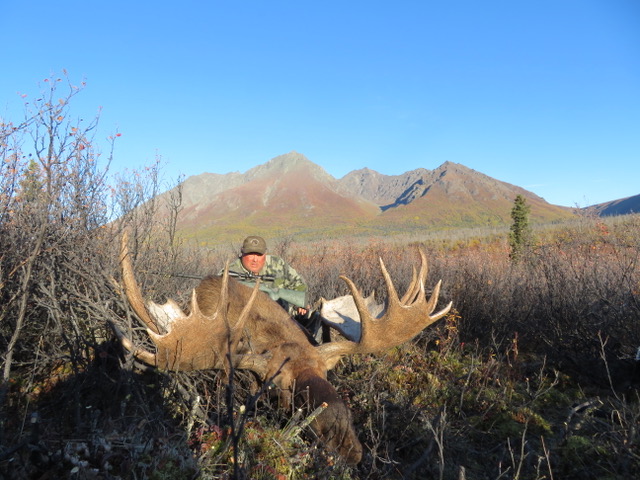 Kim Parara- 2nd Chance at Redemption