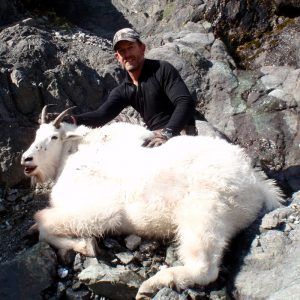 Wrangell- St Elias Mountains
The Wrangell Mountains have a good number of Rocky Mountain Goats.   We are fortunate to have enough in our corner of the Wrangell to take 2-3 per year. 
This works better as a back pack hunt rather than a base camp type hunt.  so be prepared for a hunt that requires a little exertion on the hike to the spike camp. 
Once you arrive at the camp site the up side is, where the best goats are is some of the easiest goat terrain in Alaska.  No alders, devils clubs or rain forest.  I have guided/outfitted goat hunts in the Wrangells, the Chugach and Unit 6 coastal mountains.  This is a great hunt with some pretty amazing scenery.  If you are up to it, we can help.  The goats have been in the 8' to 9"plus range.  Don't expect any B&C heads here but a very good quality goat is likely.

Mountain Goat Photos
We're looking forward to hearing from you by phone or Email!
Give us a call:  
Office  907.745.8736
Kelly's Cell 907-863-3737 
Or send a message!