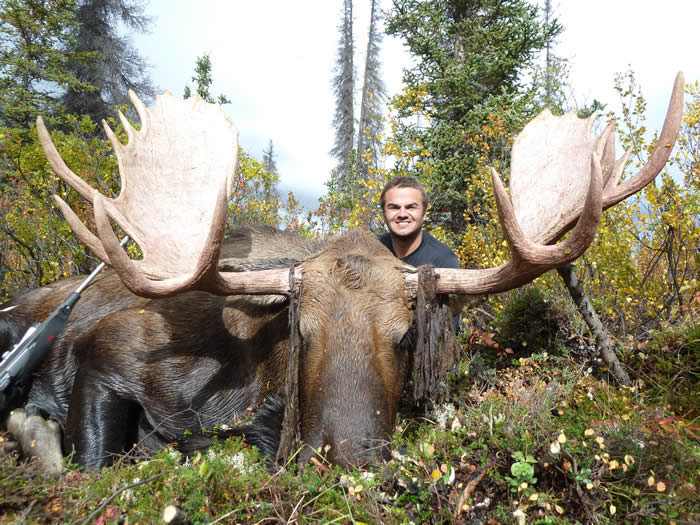 Highlights of this Hunt:
Horse-Assisted – Better Access
Very Good Moose Hunting
Good Gene Pool
Expert Guides
Sole Use Guide Area
Virtually No Resident Hunters
Long Season
What is the classic Alaska hunt?  What comes to mind?  For many, it is hunting moose in the mountains,  pack strings, wall tents, crisp clear mornings.  Thats what I thought as a kid and still do.  If this fits your idea of moose hunting we can help.
The Wrangell mountains have been the place to hunt in Alaska since 1898.  Things haven't changed much since then.   We still use horses, the moose are still plentiful the scenery is still awe inspiring.  One of our hunters said he felt like he was transported back in time to the Pleistocene.
We have an abundant moose population in our guiding concession.  Horses allow us to go where the moose are instead of where the airstrips are.  This means we are the only ones hunting moose here. The season is 30 days long, Aug 20 to September 20.  Early or late it doesn't matter each time has it's advantages.
Our guides are skilled moose hunters, hunt the mountain valleys early or classic spot and stalk or the valley timber in the rut either time these guys can help you get your trophy.
The moose range in size from the mid 50's to the 70's.  The genetics here are great, one moose that was 49" scored good enough to make Boone and Crocket.  We are limited to the number of hunters we can take in this concession.  We don't over hunt the area assuring our clients good hunting now or in 20 years.  We have an excellent success rate and great trophy quality.  Since 2007 we haven't bagged the largest moose we have seen, so they are "still out there."
2016-2018 Alaska Moose Hunt Photos

Additional Information
 Hunt, Travel and Area Information: Wrangell Area/Hunt Details
 Fair Chase – We support ethical hunting practices and conservation
 Weather Reports
We're looking forward to hearing from you by phone or Email!
Give us a call:  
Office  907.745.8736
Kelly's Cell 907-863-3737 
Or send a message!