2017 Outdoor Shows
FNAWS  January 19 to 21 Come see us at Booth 285   907+863+3737

SCI February 1-4 At Show Call at 907-863-3737 to set up meeting
February 16—19 Booth 337 • Salt Palace Convention Center • 100 South West Temple, Salt Lake City, Come by and see us! 907-863-3737
2016 Recap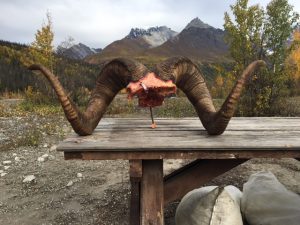 Clients are home, guides are home, planes and horses are home, trucks and trailers are home….we are home.  As an Alaska Big Game Outfitter we had one of those years that happen once in a career!
First we cannot orchestrate a camp like ours without a tremendous amount of work and support from our crew.  Chris Walker marked 20 years with us this fall. An excellent professional Assistant Guide and a good friend of ours.
Sterling Whitaker working with us since he was 17, like a son to us. Quick witted and excellent guide and horseman.
Mike Duska, aka The Closer. Mike's positive attitude and work ethic are incredible, we are lucky to have found him.
Montee Munns, another positive and hard-working man, a real people person with superior medical and farrier skills.
A big thank you to Carolyn for helping us the first week, walking in with the horses and setting up camp.
New packers Parker Westhoff, Jake Atkinson & Lawrence Indgjer. Thanks for your hard work, we know it is not an easy job. You made us a working team!
First the biggest news. Matthew Brown with Assistant Guide Sterling Whitaker took a 45 Inch Dall Sheep. Boone & Crockett score of 180 2/8. While not official we believe it is in the top 20 ever taken. This is Ram of a Lifetime and a Ram of a Career.  We are very proud to have a hard-working crew to lead to this extremely successful hunt. Congratulations Matt and Stu!
Sheep hunting was excellent with Frank Cavallo taking a 39" and Javier Boceta taking a 38" Ram. Three for three.
We were 100% on Moose this year. Largest moose was taken by Benji Rogers 70", we had 5 mid- 60" moose.
Our Mt Goat hunting was 100%, and we took 50% Grizzlies, including 2 8 ft old boars.
We enjoyed all of our clients and made new friends. A couple are planning on returning soon. Speaking of new friends, we would not be in business without you. Thank you for putting your trust in us.
Well that's a wrap. We have openings available and are booking 2017 and 2018 hunts now.
More pictures will be posted as they arrive.
Thanks everyone,  Kelly and Linda
Hunt Alaska with Kelly Vrem's Rough & Ready Guide Service!
Master Guide Kelly Vrem, owner of Rough & Ready Guide Service Inc. is a native-born Alaskan who has traveled most of the state and is familiar with many hunting areas. Kelly is certified to hunt 13 of Alaska's Game Management Units, and has chosen his favorite locations to conduct his guide business, where he can turn your Alaska hunting dreams into a reality.
Kelly has been guiding since 1973.  In 1977  he obtained his Registered Guide License and has been providing Alaska guided brown bear, grizzly bear, moose, Dall sheep, mountain goat, black bear, wolf and wolverine hunts.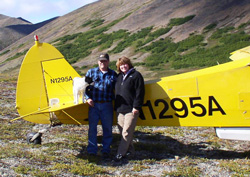 If an Alaska Horseback hunt is your preference you need to check out the Wrangell Mountain hunting section of our site. Alaska's Wrangell Mountains offer outstanding Dall Sheep, mountain goat , moose, grizzly and black bear hunting. Our hunting packages accommodate both single and multi-species hunting, and our pack and saddle horse stock is first rate.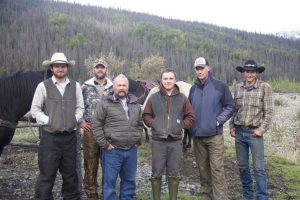 Our hunting guide staff is among the best in the Alaska big game hunting industry. Our guides are skilled hunters and committed to helping you get your sheep, bear, goat and moose trophies. Carolyn Nichols is our experienced wrangler, she also wears many hats at camp and is a valued part of the crew.
 Meet Our Crew! Pictured, from left: Parker Westhoff, Chris Walker, Kelly, Mike Duska, Sterling Whitaker, Jake Atkinson. Not pictured Montee Munns, Carolyn Nichols & Lawrence Indgjer
How do you define the ultimate Alaska big game hunt? Riding horseback into the Wrangell mountains where you may hunt moose, dall's sheep, wolf, wolverine, grizzly and black bear? Flying in to pristine mountain goat hunting ranges? Observing trophy-size bear in the amazing wilderness of the Alaska Peninsula?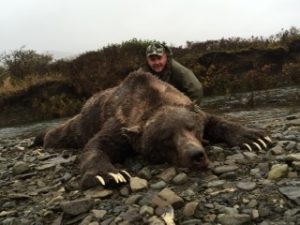 Nathan's 2015 Brown Bear
As I reflect on the great adventure I just finished, I can't help but think about Kelly and Linda Vrem and how hard they, and the entire team at Rough and Ready Guide Service, work to create such wonderful memories for their hunters.  This is the third year in a row I have hunted with them and each experience has been fantastic.
This hunt started by flying to Anchorage and then connecting to King Salmon.  In spite of tremendous weather challenges and the airline losing my bags, Kelly persevered and was never rattled.  He was there to meet us and was a tremendous help in getting everything sorted out.  He provided a nice place to stay for the night prior to flying out to the Peninsula.  Following my arrival in the hunt area, Kelly quickly set up camp and made sure that we were well fed, rested and ready for the adventure to come.  The next morning we were met by rain and high winds.  We knew that we wouldn't be able to hunt bears from the tent so we set out.  Dressed in rain gear, we glassed the river beds not far from where we were camped and found a large bear eating not far from us.  After successfully moving within comfortable shooting distance, Kelly took the time necessary to make sure that the bear we were watching matched up with the desires I had expressed to him the night before.  After ensuring we had a match, he suggested I take the shot.  The first one hit just right and we had our trophy.  It was a very nice old boar with a beautiful coat and long claws.  In fact, he was everything I was hoping for.  Kelly then set to work skinning the bear, taking down camp and safely flying me back to King Salmon.  I departed the next day and have been smiling ever since.  It is a lot of work and expense to go on these hunts but I never leave disappointed when I book with Rough and Ready Guide Service.
Hunting with Kelly and Linda Vrem is more than a hunting adventure.  It is spending time with good friends who care not only about the quality of the hunt but also about the people they are doing it with.  This is probably why they have so many return hunters who enjoy hunting with guides that have been loyal to the Vrem Family for many years.  I look forward to my next adventure with Kelly and Linda!
Jesse Shadduck's 2014 Lakina 5
First Rate Services and Accommodations for Trophy Hunters
Our airplanes are first class and just the right type to allow you to
access the back country hunting camps.

Since 1977, when we first offered Alaska Hunting with Kelly Vrem, we have been making connections and getting to know the service providers in the hunting and sport fishing world. To complement your Vrem guided hunt package, we highly recommend Tracy Vrem's Blue Mountain Lodge for fly-out trophy sport fishing. Rainbow Trout, Grayling, Sockeye King Chum and Silver Salmon, which are available at Blue Mountain Lodge on the Alaska Peninsula.

Kelly Vrem's Rough & Ready Guide Service follows Leave No Trace principles to 'maintain the health of, and access to, natural lands.'.

E-mail us for more information or, better yet, call us, it is always more beneficial to speak in person. We are proud of our business and we know we can help you acquire the bear, moose, sheep, goat, wolf or wolverine hunting goals.  Contact us now to book your Rough & Ready Guided Alaska Big Game hunting or Alaska horseback hunting adventure of a lifetime!
Recommended Reading:
Fair Chase with Alaskan Guides:  available on amazon.com

The Alaska Geographic Site:  http://www.alaskageographic.org/  is a great place to find books about Alaska.