Hunt Alaska with Kelly Vrem's Rough & Ready Guide Service
Alaska Peninsula and Horse-Assisted Wrangell Mountain Hunts
907.745.8736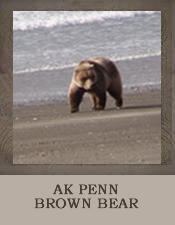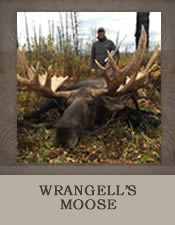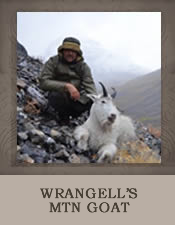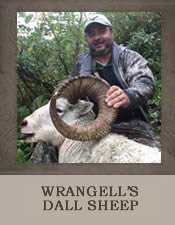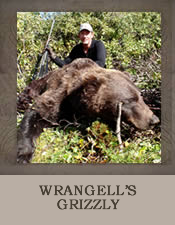 ---
2018 Season is booked up!  Please check Schedule/Prices page for next year.
 Call Kelly at 907-863-3737 or email kelly@vrem.com 
---
How do you define the ultimate Alaska big game hunt? Observing trophy-size bear in the amazing wilderness of the Alaska Peninsula?  Riding horseback into the Wrangell Mountains where you may hunt moose, dall's sheep, wolf, wolverine, grizzly, mountain goat and black bear? Flying in to pristine mountain goat hunting ranges?  We offer big game hunts in 2 of Alaska's most abundant locations!
Alaska Peninsula Brown Bear Hunts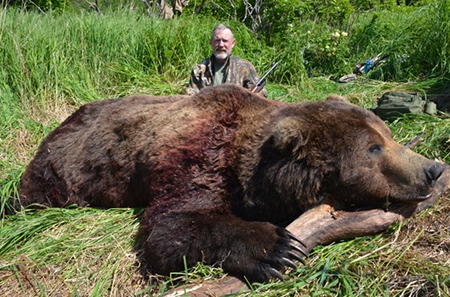 Our Alaska Peninsula Trophy Brown Bear hunts are held in our sole-use guiding area, which offers a consistently large population of the finest coastal brown bear. The terrain in this area varies from beaches to river valleys to ridge top; providing a wide variety of hunt options and scenery. This hunt begins with an air flight to the Peninsula, where we set up camp, provide an excellent meal and rest up for the hunt. Hunting locations are within a comfortable walking distance and appropriate for most hunters. To maintain population, these hunts are held in either spring or fall, in even/odd rotation. We are currently booking Alaska Peninsula hunts for October of 2017 and May of 2018. Give us a call or send a note to discuss your next Alaska Brown Bear hunt adventure!
Horse-Assisted Wrangell Mountain Hunts
If an Alaska Horseback hunt is your preference you need to check out the Wrangell Mountain hunting section of our site. Our hunting packages accommodate both single and multi-species hunting, and our pack and saddle horse stock is first rate.
Our Wrangell Mountain hunts take you to the more remote and extraordinarily beautiful area of the Wrangell-St. Elias National Monument, home to one of Alaska's most popular ranges. As one of the few areas in North America where you can hunt Dall's Sheep, Rocky Mountain Goat, Moose, Grizzly, Black Bear, Wolf and Wolverine on the same hunt, our Wrangell Mountain hunts offer extraordinary opportunity for trophy and multi-species hunts. To ease your travel, these hunts are horse-assisted. To access this area, you will be driving to from Anchorage to Chitina. From the Chitina Airport Kelly will fly you in the our Main Camp (staging area). On the first day your hunt begins (usually the next morning) we'll saddle up and ride to your specie appropriate (Moose/Grizzly) camp. From there we will be within a short hike of the best viewing areas.
Wrangell-St. Elias Hunts: Take in the Scenery and Enjoy the Ride!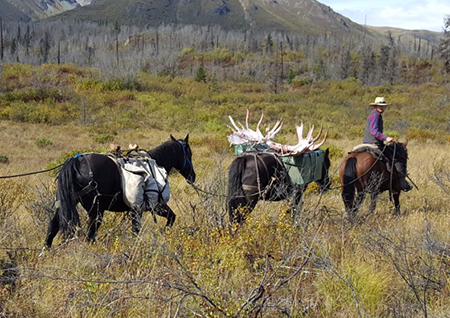 Let our horses do the work and be amazed by the Wrangell-St. Elias National Park and Preserve! You do not have to be a Rodeo Star or even close. Any level of experience from none to expert is ok. Our horses bred to be gentle and sure-footed. They know the Alaska terrain better than we do. Our horses are your assets and friends. Simply put, you need the horse and will appreciate the stamina they have to get you to your camp. Plenty of time is given to get ready, your wrangler and guide will assist you every step from packing to getting on your horse.
While some weight limits do apply, we've never had to turn away a hunter yet! This is a great hunt with plenty of opportunity for several species. You might even take a Lakina 5! (Read the story here (PDF)…) If this sounds like the hunt for you, give us a call or send an inquiry for details!
Join Master Guide Kelly Vrem and Our Top-Notch Crew for An Exceptional Alaska Hunt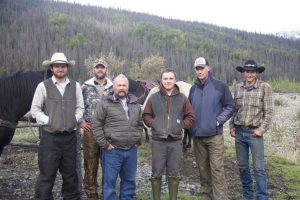 Master Guide Kelly Vrem, owner of Rough & Ready Guide Service Inc. is a native-born Alaskan who has traveled most of the state and  familiar with many hunting areas. Kelly is certified to hunt 13 of Alaska's Game Management Units, and has chosen his favorite locations to conduct his guide business, where he can turn your Alaska hunting dreams into a reality.
Our hunting guide staff is among the best in the Alaska big game hunting industry. Our guides are skilled hunters and committed to helping you get your sheep, bear, goat and moose trophies.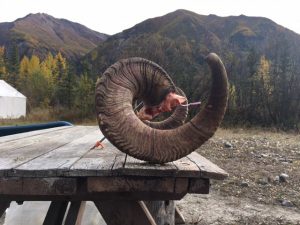 First Rate Services and Accommodations for Trophy Hunters
Our airplanes are first rate and just the right type to allow you to access the back country hunting camps.
Since 1977, when we first offered Alaska Hunting with Kelly Vrem, we have been making connections and getting to know the service providers in the hunting and sport fishing world. To complement your Vrem guided hunt package, we highly recommend Tracy Vrem's Blue Mountain Lodge for fly-out trophy sport fishing. Rainbow Trout, Grayling, Sockeye King Chum and Silver Salmon, which are available at Blue Mountain Lodge on the Alaska Peninsula.
Kelly Vrem's Rough & Ready Guide Service follows Leave No Trace principles to 'maintain the health of, and access to, natural lands.' We are a Park Concessionaire for Both Areas that undergoes an Annual Overall Rating and Financial Audit.
E-mail us for more information or, better yet, call us, it is always more beneficial to speak in person. We are proud of our business and we know we can help you acquire the bear, moose, sheep, goat, wolf or wolverine hunting goals.  Contact us now to book your Rough & Ready Guided Alaska Big Game hunting or Alaska horseback hunting adventure of a lifetime!