Hunt Alaska with Kelly Vrem's Rough & Ready Guide Service!
907.745.8736
Master Guide Kelly Vrem, owner of Rough & Ready Guide Service Inc. is a native-born Alaskan who has traveled most of the state and is familiar with many hunting areas. Kelly is certified to hunt 13 of Alaska's Game Management Units, and has chosen his favorite locations to conduct his guide business, where he can turn your Alaska hunting dreams into a reality.
Check Out Our 2016 Season Hunting Report!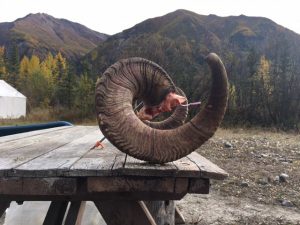 So what goes into preparation for your Alaska hunt?  Start with a first rate guide staff and we have one of the best in the state.  Then add in planning and pre-hunt preparation.  In our Wrangell Mountain area it takes the following equipment.
1 semi truck, 3 pickups, 2 horse trailer, 2 cargo trailers, 1 skid steer, farm tractor 1 station wagon, 2 airplanes, 13 horses, 30 pack and riding saddles 15 tents.
Next add 1,000 gallons of aviation gas, 12,000 pounds of horse feed just for the hunt and 90,000 for the year.  Plus 2,000 pounds of groceries.  Add in all the labor and parts bills for the equipment, horse shoeing and vet bills for the animals.  While Kelly is taking care of the machinery, tack and animals Linda is running the office, finding the money to keep everything going, advertising, banking, insurance administrator and permit coordinator.  For a good part of the year Linda is the company expediter and event planner.
An important part of our pre-hunt preparations is attending meetings for game management, land management and guiding regulations meetings to insure you have an opportunity to hunt in our great state.  You can see we are committed to the job of providing the best preparation and implementation we can for your hunt.
If an Alaska Horseback hunt is your preference you need to check out the Wrangell Mountain hunting section of our site. Alaska's Wrangell Mountains offer outstanding Dall Sheep, mountain goat , moose, grizzly and black bear hunting. Our hunting packages accommodate both single and multi-species hunting, and our pack and saddle horse stock is first rate.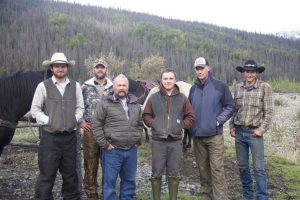 Our hunting guide staff is among the best in the Alaska big game hunting industry. Our guides are skilled hunters and committed to helping you get your sheep, bear, goat and moose trophies.
How do you define the ultimate Alaska big game hunt? Riding horseback into the Wrangell mountains where you may hunt moose, dall's sheep, wolf, wolverine, grizzly and black bear? Flying in to pristine mountain goat hunting ranges? Observing trophy-size bear in the amazing wilderness of the Alaska Peninsula?
First Rate Services and Accommodations for Trophy Hunters
Our airplanes are first rate and just the right type to allow you to access the back country hunting camps.
Since 1977, when we first offered Alaska Hunting with Kelly Vrem, we have been making connections and getting to know the service providers in the hunting and sport fishing world. To complement your Vrem guided hunt package, we highly recommend Tracy Vrem's Blue Mountain Lodge for fly-out trophy sport fishing. Rainbow Trout, Grayling, Sockeye King Chum and Silver Salmon, which are available at Blue Mountain Lodge on the Alaska Peninsula.
Kelly Vrem's Rough & Ready Guide Service follows Leave No Trace principles to 'maintain the health of, and access to, natural lands.'.
E-mail us for more information or, better yet, call us, it is always more beneficial to speak in person. We are proud of our business and we know we can help you acquire the bear, moose, sheep, goat, wolf or wolverine hunting goals.  Contact us now to book your Rough & Ready Guided Alaska Big Game hunting or Alaska horseback hunting adventure of a lifetime!