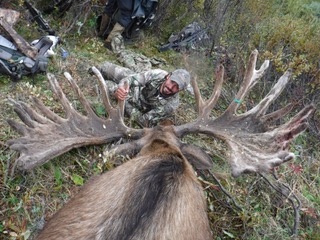 Alaska Moose hunting with us may not be as arduous as you might think.  We are in our 10th year in our Wrangell St-Elias National Park and Preserve concession.  We don't know it all yet but we have most of it figured out.  I have 44 years of moose guiding experience and some of the guides have near or over 20 years of moose guiding experience with us.  Every member of our guide staff is either currently guiding Elk and deer in the lower 48 or have had many years of past guiding for elk and deer.  These guys are pros and their aim to to make sure you get your moose.
Hunting moose in the mountains has some general characteristics.  These general conditions have some specific tactics that apply.   No matter the time of the season some tactics are constant.  Still hunting or "pussy footing" has no good outcome here.  Spot then stalk.  Be quiet these moose can hear your voice several hundred yards away.  You are more than likely to be on a high spot which allows them to hear you even further away.  Patience,  these moose live here and more show up every day.
We start early above timberline.  The horses deliver you and the guide to the  hunting camp  location.  After setting up the tent and organizing your tent and camp it's time to go hunt.  Our camp selection is determined by the proximity to a look out.  You will spend your time on that look-out searching for your moose with binoculars.  Once a suitable moose is spotted the stalk begins.  If your in fairly decent shape off you go.  If your mobility is limited there are options.  Wait until one shows up closer, call it closer or go part way and reestablish a look out closer.
You have options, stalks need not be full out sprints.  the horses pack the moose out the only thing you might need to do is help hold a leg in position to let the guide field dress the moose.
The camps are comfortable some are 10×10 free standing tents with propane heat some are wall then with a wood stove.  In all cases you are sleeping on cots and eating real food not freeze dried.  The horses allow you to take a fairly generous amount of clothes along.  The proper clothing is a a topic for a future blog.  Next week we will talk about Brown bear hunting on the Alaska Peninsula.
If you're ready to discuss your next moose hunt, give us a call! 907.745.8736