by Kim Parara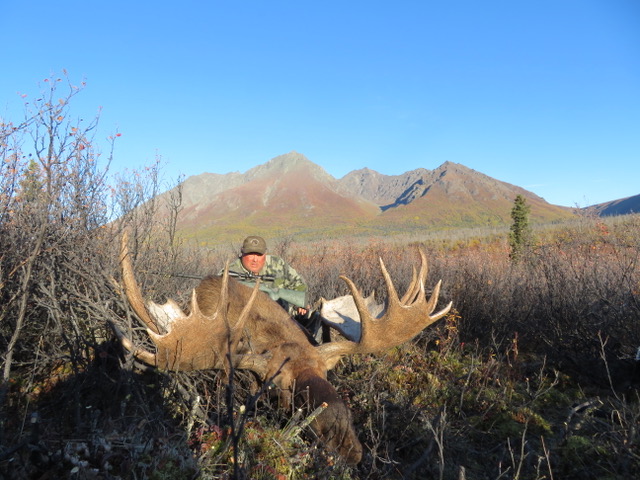 Think back to when you first started listening to the great storytellers, spinning their tales about great adventure in far off places. Mountains so high you couldn't see the tops and valley's so wide and long they seem to end in the next zip code. I have hunted and fished in many countries and across several continents over my life, but Moose hunting in Alaska was my capstone goal.  I contacted long time pilot and master guide Kelly Vrem. Who with his wife Linda operate Rough and Ready Guide Service and have one of the only operations in the Wrangell Mountain / St. Elias Park & Preserve.  The hunt was scheduled for September but August brought over 100 inches of rain to the Chitina area, it was a lot of weather, but this wasn't my first moose hunt in Alaska. I had been in  Alaska, hunting moose last year and stubbornly tried to attempt it with a moderate foot injury. After several days of hiking the trails the injury worsened and unfortunately ended the hunt early. I could not finish my hunting career like that.
So a year and two surgeries later, still on a broken but much healthier foot I boarded Kelly's bush plane and we headed for base camp. The views and wildlife were amazing. It was the reminder I needed of where I was, and the personal goal I had to finish the hunt. The camp was remote in location but not in comfort. The meals were fantastic and camp life was everything you would see in the pages of a National Geographic. From camp I could see Mtn goats, sheep, and black bears. I was paired with guide Monte Munns and what a top-notch guy he is. He never gave up on me and kept me going even when the times got tough. This hunt wasn't about a moose, it was about finishing.
Every day we saw numerous species and 3 to 9 bull moose. With that many animals around we decided to take out time. On day 7 we arrived at our lookout and immediately spotted our bull about 2 miles out.  We gave a short calling session which echoed down the valley and he turned our way. With the big boy coming we decided to move to a small knoll with an elevation advantage. We relocated the bull and when he would stray off course, a short call would get him back on track.  At 500 yards he stalled just a bit but Monte coaxed him in closer. At 355 yards he stopped. I had my shooting tri-pod ready, breathing was calm and controlled and I shouldered my Fierce Firearms carbon fiber rifle in 338 RUM. I chambered the new Barnes LRX 250 grain rounds and settled in. The bull was mine with the first shot, but I put two more in him for good measure. He didn't go far and while we were field dressing him we saw why. The Barnes LRX rounds wreaked havoc on the way right through him. We got him broke down and hauled back to camp.
Linda and the rest of the camp were awesome. Everything was well organized, professional and made you feel like a guest and not a client. The whole experience was perfect. And for what is most likely my last big hunt, I had hiked 170 miles up, down and around the wilds of Alaska and most importantly I finished.