2016 Wrangell's Dall Sheep Hunt
There are several people I'd like to thank. First of all Mark Young, who helped me throughout the process of booking this hunt. Patrick Holehan of PLHolehan Custom rifles, for building me a rifle that shoots better than I can ever hope so, Gerard Schulz of GS Custom bullets for teaching an old dog new tricks and Ray Atkinson for helping calm the 90% between the ears of this old dog.
And of course my outfitter Kelly Vrem. Kelly is the real deal, a well respected outfitter, active in guide politics and a no nonsense great guy. He runs a tight, well run camp and top notch quality hunts. The horses are well nourished and good mannered. The guides are knowledgeable, well seasoned and among the best I've ever had.
I booked this hunt last fall through Mark Young and rather than do a multi species Alaskan safari I wanted to do just do a nice simple horseback sheep hunt to pop my new rifle's cherry. I've shot Barnes TSX pretty much exclusively since '05 or so and this .270 will shoot 130 gr TSX into one hole. Inasmuch as I am a firm believer in the opposite of good is perfect I decided to fk around and ordered some GS Custom HVs in 130 gr. Well Gerard personally emailed me after reviewing my order and asked for my application. I told him sheep and he suggested I read his website for reloading info and opt for the 110s. Well this ol' dog has been shooting 130s for 3 decades…….. Still scratchin my head I PMd Ray Atkinson. Ol' Ray said- he swears by them and wouldn't hesitate to shoot a Grizzly with 120s. So with 2 weeks before the hunt I got my rifle to put 110 gr HVs into one hole at 3386 fps. I ran the Swarovski ballistic program, memorized the reticle drops and shot 2 down range at 200 and 2 at 300 to confirm the sunday before my flight.
Got in to Anchorage midnight sat and spent sunday doing the rounds- my yearly pilgrimage to Barney's, Cabela's and Sportsman's Warehouse.
Drove to Chitina on Monday and flew out to camp. That evening while awaiting supper I noticed a 4″ long white hair on my merino shirt that came from Enzo, my Great Pyrenees who would follow me every night to my reloading room. How that hair made it from my luggage, then packing my crap out of the hotel, the 5 hour drive, the flight to camp and not get lost…..a friggin omen. I tucked that hair underneath the band of my cap for luck.
The plan of action for the next day was to eat breakfast, load up the horses and ride out to spike camp. Once there we'd drop off some supplies and then pack out to set up a pup tent a little higher up for a couple-three days. So I had all my gear packed up, we loaded up the horses, full rain gear, strung em up and off we went.
Well. We never made it to spike camp.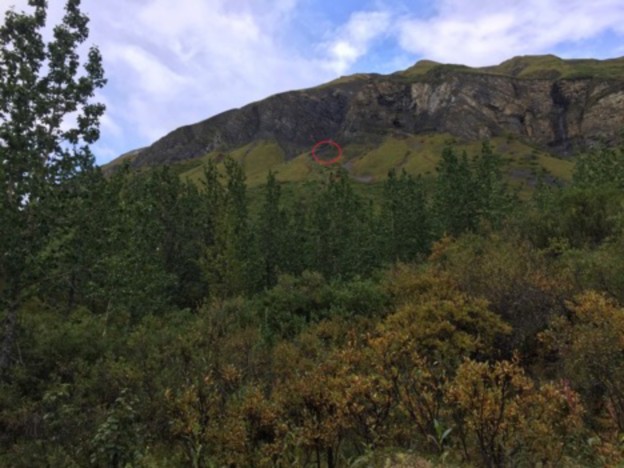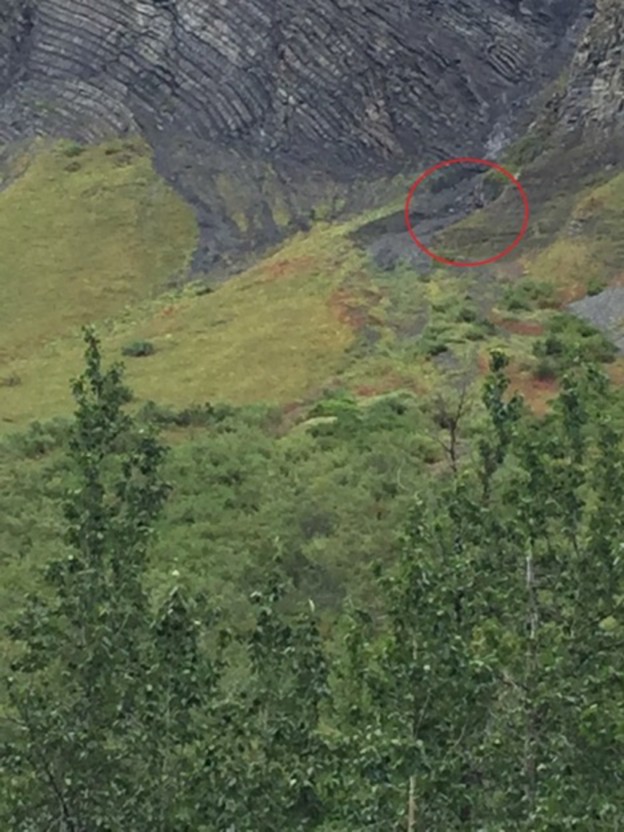 About an hour and a half into the trip, we get around a bend and spotted 4 rams about a mile or so ahead beneath a cliff. My guide gets out his spotting scope to take a look. "We got 2 really good rams up there, one in a group of three, the other a little below them. The one below I can't see so well. Both are full curls but the other on top is a nice one. Let's go get him."
We were creek side within the alders and were well out of sight. We undid the tarps, unloaded the gear, scrambled to get what we needed for the stalk and left the horses with the wranglers. I ditched my HH coat, got my binos, gun and some ammo. We had 2 things in our favor- no wind/ overcast no thermals and the majority of the trail was cut in the alders. We did have 3 or 4 bigger areas where we'd be exposed. Fortunately the sheep were grazing and we were able to coordinate & traverse those areas hunched over when only one sheep was facing us.
We got to the base of the mountain unnoticed and in good time- that mile or so went by quickly. All 4 sheep had bedded down by now- 3 on high and the fourth in the grass below them and just above the alders.
Now for the fun part all we had to do was go straight up 6-700 yards or so…..but in blankety blank alders. I don't care how great a "sheep shape" you are in, "alders shape" is a whole other animal. I was having bear hunting flashbacks. Yup, climbing straight up alders just plane sucks. A couple hundred yards into the climb my guide turned around and asked- "So how far can you shoot that thing?" Classic downhill growing thicker-n- shit alders. I thought this was a horseback sheep hunt…alders?!?!?!. My guide was concerned we were getting pretty close to that lower ram. I wasn't worried though as halfway up I noticed a black rock with a white vein running through it- Enzo…..I thought That put a smile on my face- I just knew it was going to be my day.
Sure enough a hundred yards further up we stumbled upon a 30 x 30′ gravel slide at exactly 350 y out from the sheep- I kid you not! Only problem was getting a good rest with a shooting lane above and between the brush. We put the pack down and built it up with my bino case and our jackets. I only had a 1′ small window to shoot through, but I got a great rest, everyone was bedded down, and we got there unnoticed.
Then began the wait. After about an hour we were getting cold and thirsty, but we waited and dared not screw with the pack. Both of my arms fell asleep several times, I kept stretching my neck and shot that ram about a hundred times or so. Get up you so and so.
And then he stood up. I don't think he reached 2 Mississippi when I plugged him. He took 2 steps and dropped. He started to flail and I plugged him again, and to my delight, he rolled the 350 yd back down the hill.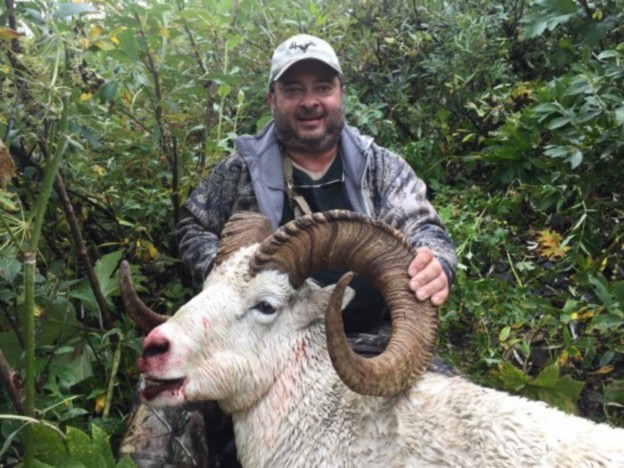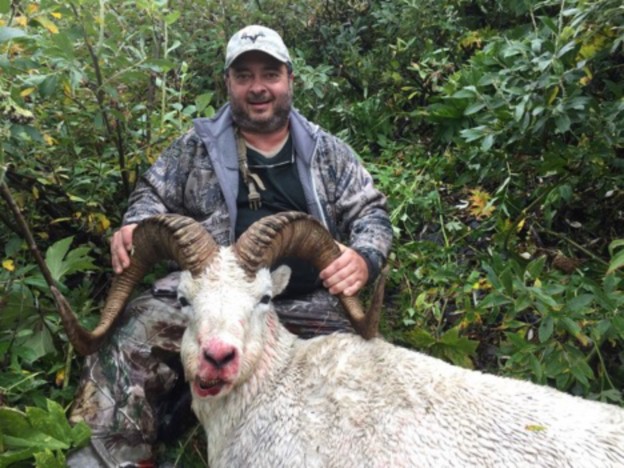 The best part of all was that Kelly and another guide overheard us calling the wranglers on the radio to bring the horses up……… "What?!?!?!?!" "We gotta sheep down." "What?!?!?!?"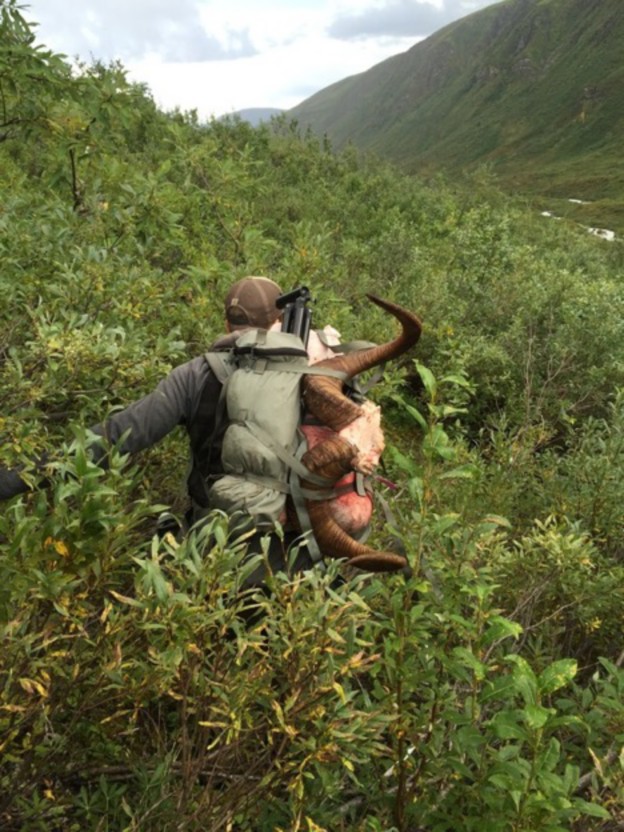 "Ain't nuthin to this sheep hunting." "Lucky bastard!" Nah, I told Kelly I've shot several animals on my first hunt and some at the eleventh hour on my last hunt. It doesn't matter what day it is….it was a great stalk and a perfect sheep hunt albeit without the Mountain House. But I do kinda like this Dall day hunt thing………..
I can't emphasize enough Kelly Vrem is the real deal, a straight shooter and runs a great camp. Thanks to Mark Young for putting me in his hands.
by Frank Cavallo
(Edited by Linda for salty language)
Dan Hammond's Lakina 5!
He took a  Moose, Dall Sheep, Mountain Goat, Grizzly Bear and Black Bear in 17 days.  Dan is one "in-shape mentally-tough + customer, admittedly.