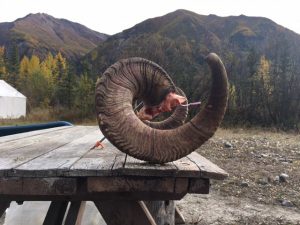 We are home, clients, guides, packers and horses. We look back on a great 2016 season like proud parents.
First we cannot orchestrate a camp like ours without a tremendous amount of work and support from our crew.  Chris Walker marked over 20 years with us this fall. An excellent professional Assistant Guide and a good friend.
Sterling Whitaker working with us since he was 17, like a son to us. Quick witted and excellent guide and horseman.
Mike Duska, aka The Closer. Mike's positive attitude and work ethic are incredible, we are lucky to have found him.
Montee Munns, another positive and hard-working man, a real people person with superior medical and farrier skills.
A big thank you to Carolyn for helping us the first week, walking in with the horses and setting up camp.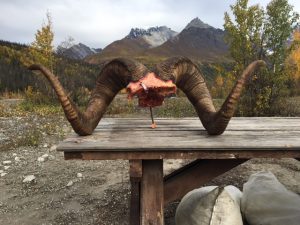 Packers Parker Westhoff, Jake Atkinson & Lawrence Indgjer. Thanks for your hard work, we know it is not an easy job. You made us a working team!
First the biggest news. Matthew Brown with Assistant Guide Sterling Whitaker took a 45 Inch Dall Sheep. Boone & Crockett score of 180 2/8. While not official we believe it is in the top 20 ever taken. This is Ram of a Lifetime and a Ram of a Career.  We are very proud to have a hard-working crew to lead to this extremely successful hunt. Congratulations Matt and Stu!
Sheep hunting was excellent with Frank Cavallo taking a 39" and Javier Boceta taking a 38" Ram. Three for three.
We were 100% on Moose this year. Largest moose was taken by Benji Rogers 70", we had 5 mid- 60" moose.
Our Mt Goat hunting was 100%, and we took 50% Grizzlies, including 2 8 ft old boars.
We enjoyed all of our clients and made new friends. A couple are planning on returning soon. Speaking of new friends, we would not be in business without you. Thank you for putting your trust in us.
Well that's a wrap. We have openings available and are booking 2017 and 2018 hunts now.
More pictures will be posted as they arrive.
Thanks everyone,  Kelly and Linda